Your Best Printing Choice


Graphic design can make all the difference in business printing. It can mean the difference between a piece that gets read versus one that gets discarded. That's why Print-O-Graph of America makes good business sense.
If you're not communicating your message with impact, it may be getting lost in the clutter. We at Print-O-Graph of America have the knowledge and expertise to assist you in creating communications that generate more attention.
We can advise you on how color can work for you. How to best use color with your design. Plus how to use colorful paper stock to enhance your corporate image.
Print-O-Graph of America can create exciting, effective business communications by using our expertise in graphic design. We will use our knowledge and experience to turn your bright ideas into brilliant tools. Just bring us your rough layout or sketched ideas and we'll work with you on overall layout. Choosing the right typeface. Where to put illustrations or photographs. And how much 'white space' will add to the readability of your piece. The end product will be something your customers will not only pick up, but read.
Image alone can make or break your business. That is why it's absolutely essential to look your best in print. At Print-O-Graph of America, we understand this. We should. We have the knowledge and expertise to produce the most professional, effective business printing possible.
Where do you go when you need to look good? To Print-O-Graph of America for graphic design.
Our expereined graphic designer team can make your website get more trafic and get noticed with some special functions. If you need a website or a logo for your business consider Print-O-Graph of America not only for your graphic designs but also for your web creation as well. The right business website can give your business a competitive edge. Just think what a more polished and professional-looking website could do for your business. Then think of Print-O-Graph of America.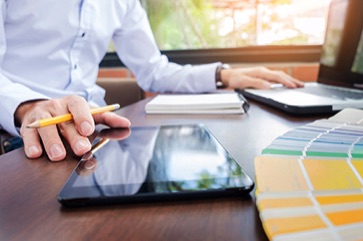 Creativity, Web and Graphic Design, Logo Creation: